Wall Mount Non-cash Automated Banking Machine ABM
This is a bank inquiry kiosk serves as a simplified ATM without banknote deposit/withdraw functions. Wall Mount Bank Inquiry Machine Model SKT-B4005 is widely used in rural and remote areas where bank branches are not available or in other scenarios in which people would like to operate recharge payment, bank account details printout, transfer payment between own bank accounts or even cross banks.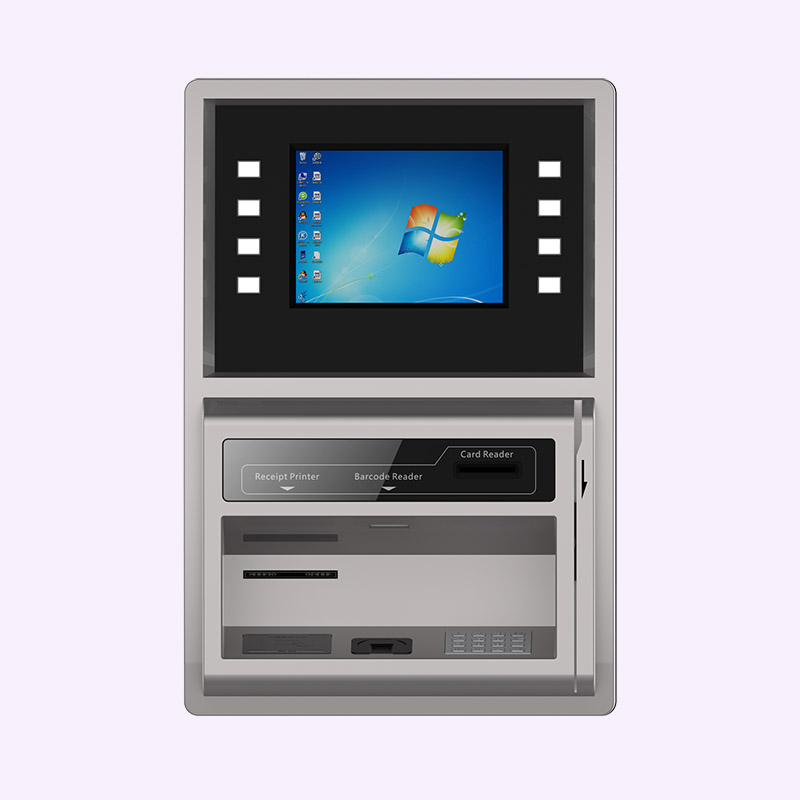 Main Functions
1) Bank account inquiry
2) Transfer payment
3) Change password
4) Receipt printout
5) Advertising information broadcast
6) Recharge payment
Product Features
1) Fashionable appearance and firm cabinet body
2) Simple and easy operation.
3) Chosen hardware modules with low failure rate.
4) Front maintenance design with convenient installation and maintenance.
Main Specification
Module

Specification

Industrial Control

Low power consumption motherboard, integrated J1900CPUX, 4G RAM, 500G hard disk; 1 VGA, 1 HDMI; 1 10/100/1000Mbps adaptive Ethernet port, 7 USB interfaces, 6 RS232 interfaces, DC12V power supply.

Display

15-inch capacitive integrated screen, VGA interface, DC12V, Resolution 1024*768, Display ratio 4:3, Brightness 250cd/m2, Touch accuracy 4096*4096, support multi-touch.

Card Reader

Standard RS232 interface, DC24V, supports IC card, RF card read-write, magnetic card read-write only, with electric door, Supports card pop-out when power down, Magnetic card conforms to ISO7810 ID-1,7811 standard, IC card conforms to ISO7816-2 standard, RF card conforms to ISO14443 TYPE A & B, and qualified EMV and/or PBOC certification.

Encryption PIN Pad

Standard RS232 interface, certified by PCI V3.0, with waterproof, dust-proof, riot-proof and leak-proof, single DES, double DES, 3 DES algorithm, Self-destruction during unsealing.

Receipt Printout

USB interface, DC24V/3A, Thermal printing, Support graphics & text printing, Full cutting, with black mark detection for paper run-out, Paper width 80mm

Power Supply

Input: AC110V/220V,350W, Output: DC24V/8A, DC12V/12A

Multimedia Speakers

Support multimedia voice system.

Dimension

440x260x650mm

Weight

30Kg
Note: The above configurations are for reference, we remain the rights of upgrade without prior notice.
Application Scenario
Supermarkets, grocery stores, building lobbies, community service centers, etc.
Sunson Profile

FAQ:
Q1: Can I customize the product I ordered?
A1: Absolutely yes, customization offer from customers are welcome in our company.
Q2: How long is the warranty time for your products?
A2: The standard warranty is 1 year from the date of delivery, but can extended if extra cost paid.
Q3: What is your after-sale service?
A3: Our well-trained engineers can provide you any technical support in time. Our sales persons are also available at 24/7 on mobile phone, email etc.
Q4: What payment methods your company accept?
A4: We accept most of the payment methods, but mainly accept T/T,L/C.